5 Whatsapp Surveys That HR Departments Should Definitely Use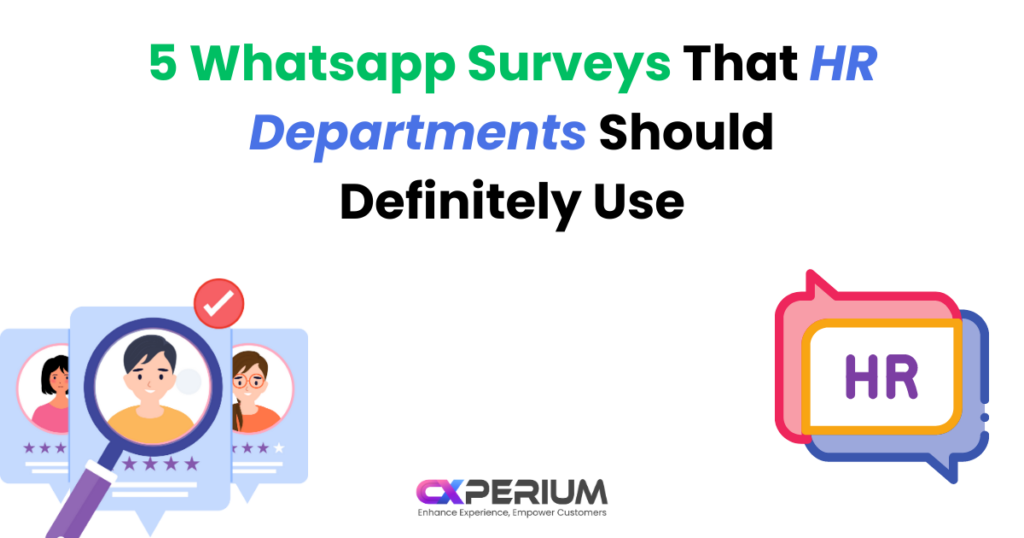 In this period when data-based developments are at the forefront, surveys are increasing in importance day by day so that companies can collect data both inside and outside the company in various fields. With this increasing importance, each department of the companies operating in various fields obtain useful data by using the new generation survey systems. One of these departments is the HR department, which is one of the most important departments of companies. In this article, we will talk about 5 Whatsapp surveys that HR departments should definitely use and the importance of Whatsapp surveys for HR departments.
Why HR Departments Should Use Whatsapp Surveys?
In the age of technology we live in, traditional methods are rapidly losing their importance. Data collection period with traditional surveys is one of these examples. Whatsapp surveys provide users with many conveniences with fast, integrated and simple usage compared to traditional survey methods. Let's briefly talk about the benefits of Whatsapp surveys to HR departments.
Easy Access and Use: WhatsApp is a popular communication platform with a large user base. Almost the majority of employees can access WhatsApp using their mobile devices. This leads to more participation in surveys.
Quick and Instant Feedback: WhatsApp surveys provide an effective way to get quick and instant feedback. Surveys are delivered instantly and employees can answer quickly so feedback can be fresher and more accurate.
High Engagement Rates: Given that employees use WhatsApp on a daily basis, survey participation rates are generally high. It can grab the attention of more employees than email or other communication methods.
Low Cost: WhatsApp surveys cost less compared to traditional survey methods. It requires less resources than paper surveys or other survey software.
Privacy and Reliability: WhatsApp's security features and end-to-end encryption keep employee data safe. This allows employees to participate in surveys more securely.
User-Friendly Interface: WhatsApp surveys have a user-friendly interface. It is a simple process for respondents to easily view and answer questions.
Personalization Possibility: Allows adding WhatsApp polls, customized questions and messages. This makes the survey more effective and personal.
Instant Analysis: In addition to collecting your data quickly, you can analyze it instantly. This can help the HR department quickly identify trends and downsides.
Flexible Timing: You can submit surveys at any time. For example, you can forward surveys at times that employees can comfortably answer after work or during lunch.
Creative Survey Content: You can enrich WhatsApp surveys with text, images, voice messages or links. This can make surveys more interesting and effective.
5 Whatsapp Surveys for Hr Departments
1- Employee Satisfaction Survey
It is used to evaluate employees' views and satisfaction levels about their jobs, working conditions, management and team relationships.
Survey Questions
Enter Your Position (Text Question)
Would you recommend our company to a friend or acquaintance? (NPS)
Please rate communication and management support on a scale of 1 to 5 (Star)
Please rate the company culture and values on a scale of 1 to 5 (Star)
Please rate your work dedication and motivation by ticking one of the following options (Interactive): (A) Low (B) Medium (C) High (D) Very High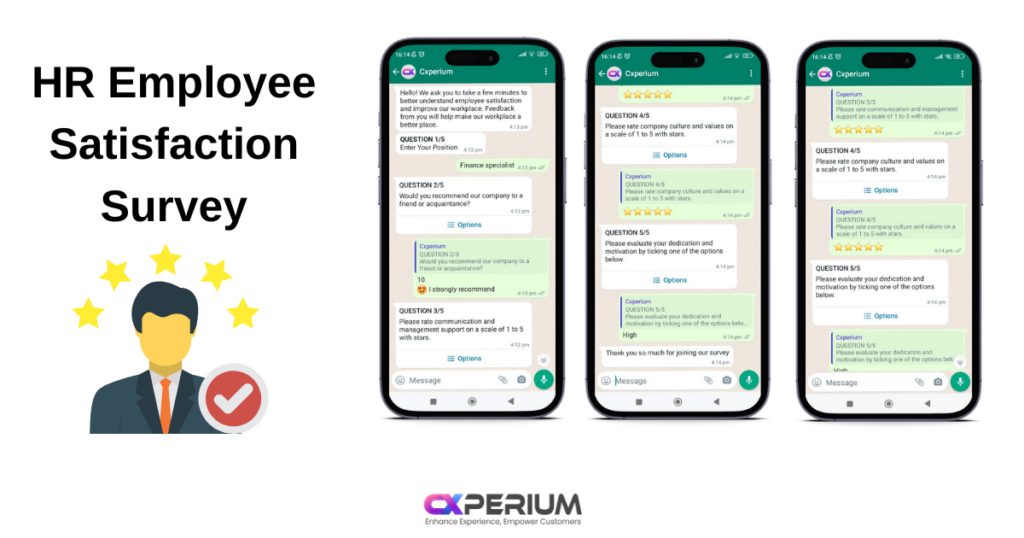 2- Training and Development Questionnaire
It is used to determine the training needs of the employees and to evaluate the development opportunities.
Survey Questions
Could you please indicate your name and position?(TEXT)
How satisfied are you with the training you have received so far?(STAR)
Which of the following topics would you like to receive more training on?(A) Workplace Communication B) Leadership and Management Skills C) Time Management D) Problem Solving and Decision Making E) Personal Development F) Other)
What types of training formats are more preferable for you?(INTERACTIVE) :(A)Face-to-face training B)Online interactive training C)Webinars D)Training videos E)Written materials (books, handbooks, etc.)
How positively do you think you were affected by the training and development programs offered by our company?(NPS)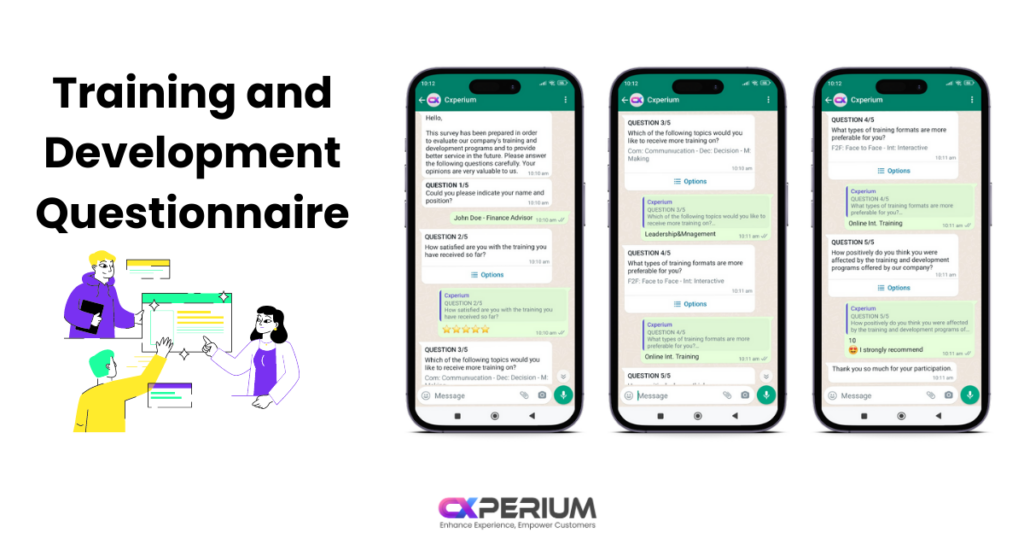 3- Performance Evaluation Survey
This survey is used to evaluate the performance and competencies of the employees. It allows both managers and employees to evaluate.
Survey Questions
How positively were you affected by our company's performance appraisal process?(NPS)
Please rate our performance appraisal process with the following five-point star rating(STAR)
How successfully do you think you achieved your performance goals?(INTERACTIVE)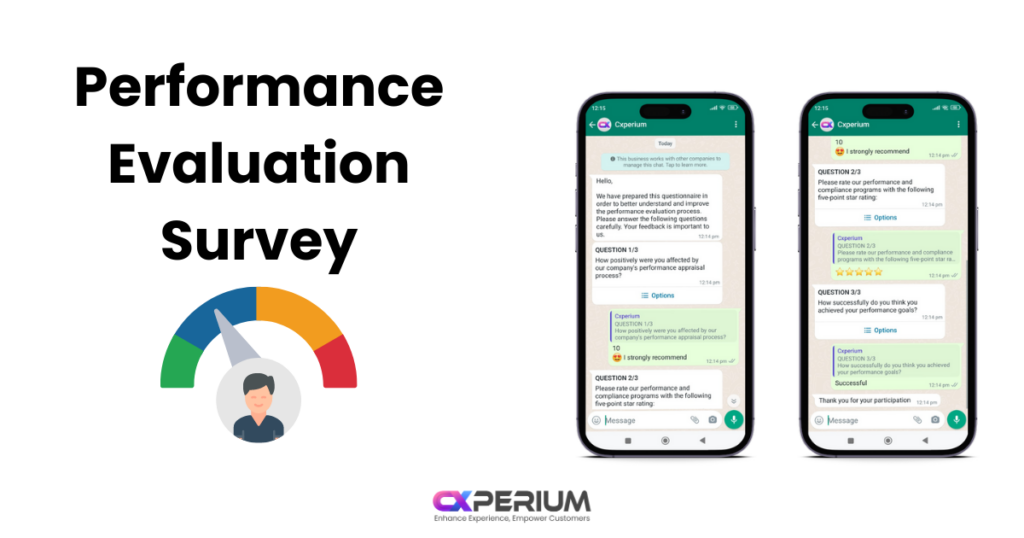 4- Workplace Culture Survey
It is helpful to describe the types of surveys HR departments can use to measure views on workplace culture, values, communication, and atmosphere in the workplace.
Survey Questions
How influenced are you by our company's workplace culture and values?
Please rate the workplace culture with the five-point star rating below.
Can you understand our company's mission and vision?
How successful do you think our company is in terms of diversity and inclusion?
What do you think about internal communication and feedback mechanisms?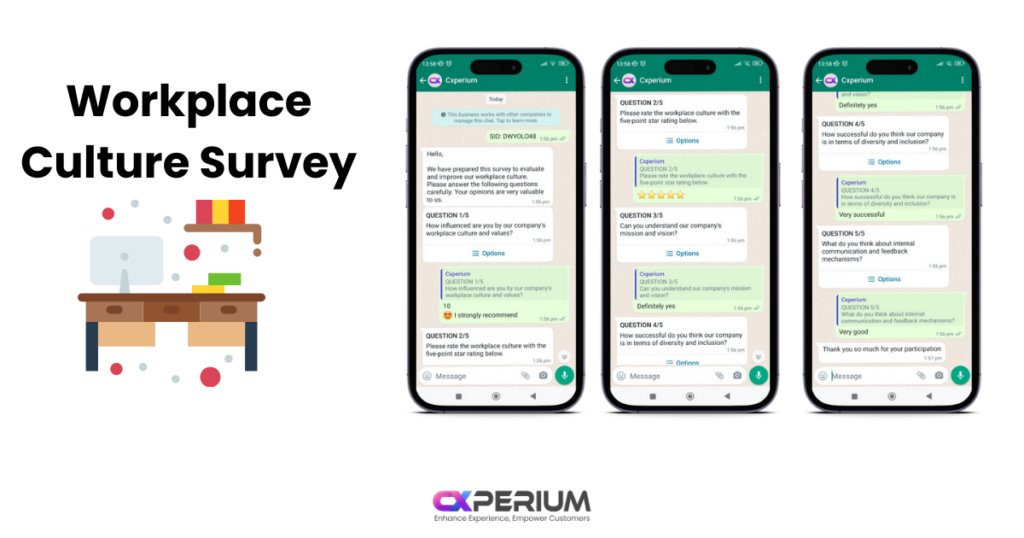 5- Career Development Survey
You can highlight how Whatsapp surveys can be used to identify employees' career goals and expectations regarding career development.
Survey Questions
How satisfied are you with the career development opportunities offered by our company?
Please evaluate our career development opportunities with the five-point star rating below.
Do you find the career development opportunities of our company sufficient?
In which areas would you like to see more career development opportunities?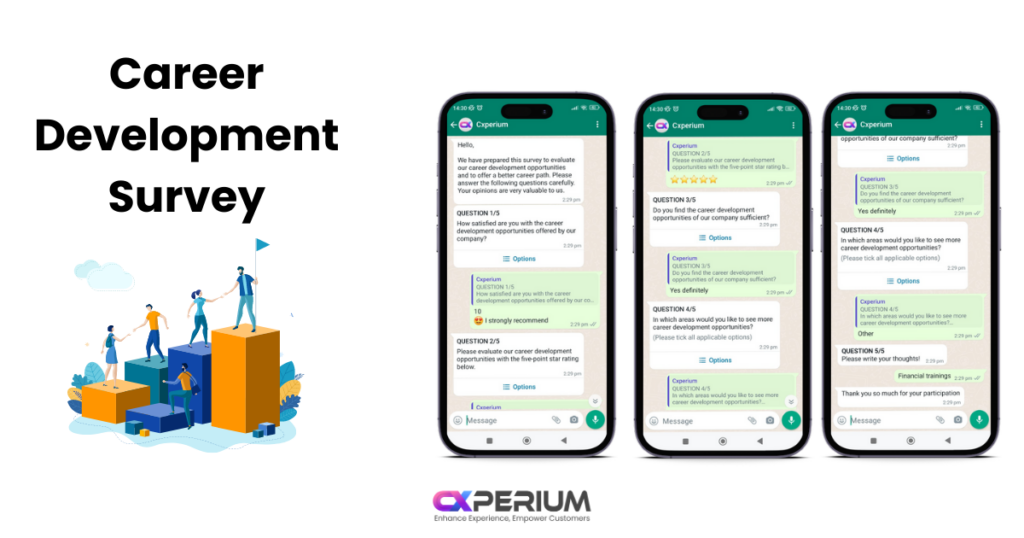 Catch Employee Insights Now, Shape the Future With Cxperium!
With Cxperium we offer a powerful solution for your HR department. It's now easier to hear your employees' voices and make the workplace a better place. You can create polls with NPS, star rating and multiple choice questions. You can also reinforce your questions with media and document files.
🌟 Capture Talent and Potential First: Identify the brightest talents with star rating. Discover future leaders by quickly identifying which employees stand out.
📊 Increase Employee Satisfaction: Measure employee satisfaction with NPS surveys. Make decisions based on valuable data to drive workplace culture and performance.
🔘 Comprehension with Multiple Choice Questions: Add interactive multiple choice questions to gain a deeper understanding of employees' views. Shed light on different aspects of the workplace.
📎 Enrich Your Questions with Media and Files: Get more effective results by reinforcing your surveys with media and documents. Engage employees with broader responses with training materials and visuals.
Add value to employee feedback, improve workplace culture and increase performance with Cxperium. Start today to shape your HR Organization!