Discover the Power of Whatsapp Marketing!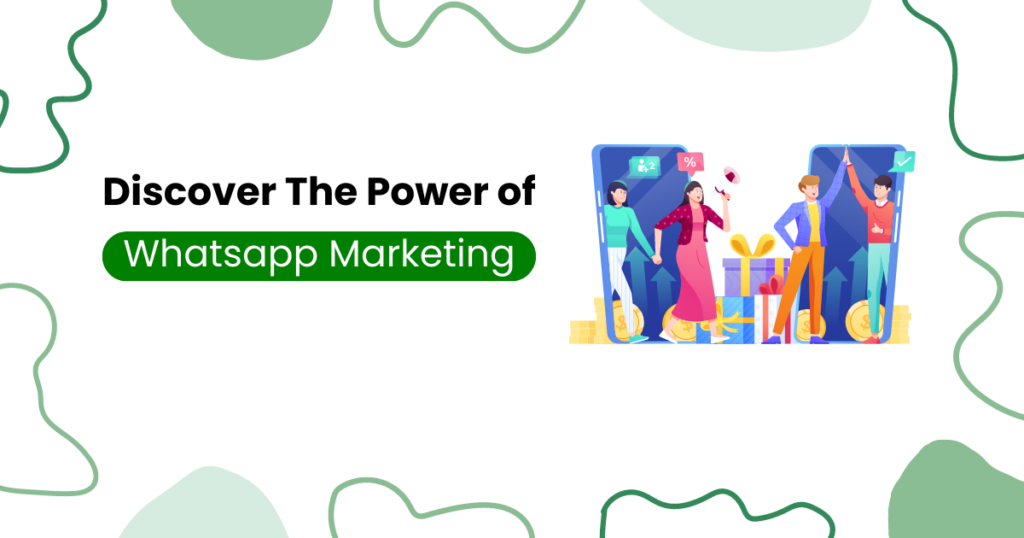 In the age of technology, where digitalization is at the forefront, businesses need to discover new methods to reach more customers, promote their brands and increase their profitability by improving customer experiences. These methods have to be effective and practical, especially for increased competition in the business world. At this point, WhatsApp marketing stands out as a powerful weapon. The fast, personal and instant communication opportunities offered by WhatsApp enable businesses to reach customers more closely and effectively. In this content, we will share important tips about the world of digital marketing, focusing on how WhatsApp marketing makes a difference in businesses and the most effective strategies created through Whatsapp.
What Is Whatsapp Marketing?
Whatsapp marketing is a marketing strategy aimed at businesses to reach more customers and make profits by developing marketing operations through the Whatsapp platform. WhatsApp allows its users to transmit dynamic media types such as text messages, images, videos and audio recordings, while at the same time supporting functional communication tools such as survey sending, button forwarding, call to action, increasing the interaction of enterprises with their target audience.
The most powerful tools that Whatsapp offers you to develop marketing strategies are as follows;
Personal Messages: Businesses can interact directly with potential customers by sending personal messages with special offers, discounts or content.
Group Chats: Businesses can engage with their target audiences more broadly with group chats created based on interests or customer segments.
Creative Content Sharing: Businesses can promote their brands by sharing content such as interesting pictures, videos or audio recordings on WhatsApp.
Quick Responses and Customer Service: They can increase customer satisfaction by providing quick responses to customers' questions and requests.
Surveys and Feedback: By conducting surveys on WhatsApp or collecting customer feedback, they can gain valuable insight into improving their product or service.
Broadcast Lists: Businesses can reach large audiences by forwarding certain news or announcements to their customer lists.
QR Codes and Links: WhatsApp can enable customers to contact businesses directly through QR codes or shared links.
Special Events and Promotions: They can attract customer attention by offering special offers such as special event invitations or limited-time promotions via WhatsApp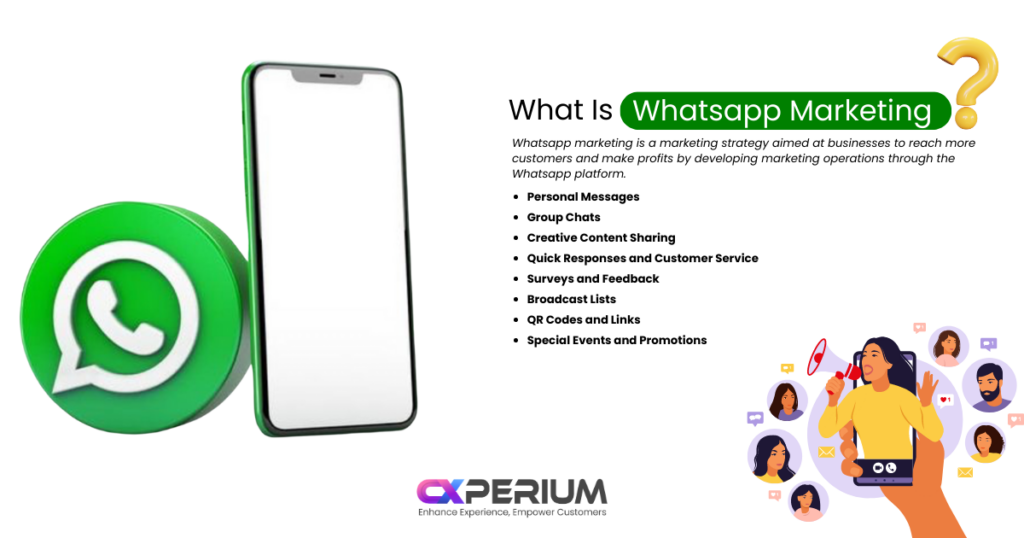 Why Whatsapp Marketing Is Important For Business
Whatsapp provides powerful tools for you to develop marketing operations in your business and develop customer-specific strategies. With these tools, you can create effective marketing campaigns on Whatsapp and get effective insights for your business. The following features are the factors that make Whatsapp marketing important for your business;
Personal and Direct Communication: WhatsApp allows businesses to communicate with their customers directly and personally. This gives customers the opportunity to connect and build relationships more effectively by sending special offers, discounts or announcements.
Fast and Effective Customer Support: WhatsApp can help deliver customer support services more quickly and effectively. Customers can get instant assistance by directly submitting their problems or questions.
Low Cost: WhatsApp marketing is often a lower cost option than traditional marketing methods. Using the messaging app allows you to avoid costs such as advertising materials or printed documents.
Reaching Large Audiences: WhatsApp has billions of users around the world. This means businesses have the potential to reach a wide audience. It becomes easier to promote your products or services to customers in different geographies.
Interactive Content Sharing: You can use WhatsApp to share different types of content such as text, images, video and audio. This allows businesses to create more effective and engaging content.
Instant Communication and Feedback: WhatsApp marketing allows businesses to get instant feedback. You can quickly learn the reactions and thoughts of customers.
Building Brand Loyalty: Establishing a personal relationship with customers can be an important way to build brand loyalty. WhatsApp marketing can make your brand more memorable by establishing close contact with customers.
Higher Conversion Rates: Personal and customized communication can often lead to higher conversion rates. Communicating directly with customers via WhatsApp can increase the potential to increase sales.
Effective Campaign Execution: WhatsApp enables you to effectively communicate marketing campaigns such as special offers, discounts and promotions.
Mobile Ease of Use: WhatsApp is an application that can be easily accessed via mobile devices. Most customers use their mobile devices frequently, which allows businesses to instantly communicate and interact.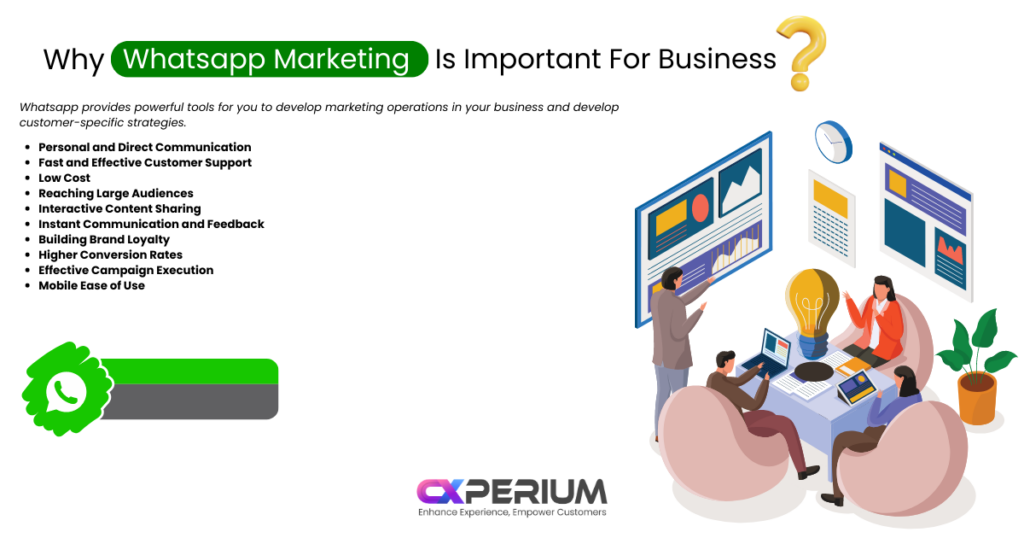 Effective Ways To Use
The most effective way of WhatsApp marketing is about implementing strategies that fit your business goals and target audience. Here are some methods that can help you do WhatsApp marketing in the most effective way;
Determine Your Target Audience: First, you must determine what type of customers you want to reach. Identify your target audience, analyze data such as demographics, interests, and shopping habits.
Get Permission: When marketing WhatsApp, it's important to get permission from your customers. This is necessary to obtain consent and not be perceived as spam. Respect customers' communication preferences.
Share Original and Valuable Content: The content you share should be interesting, useful and original. You can increase your brand's authority by providing content that adds value to customers.
Personalized Communication: Provide personal communication with customers by sending one-to-one messages. Addressing them by name can grab customers' attention and help you build relationships.
Schedule Well: Choose the timing carefully when sending your messages. Try to identify the best times for your business's target audience.
Provide Special Offers and Discounts: You can get your customer's attention by offering special offers, discounts or promotions. You can share special discount codes or offers via WhatsApp.
Get Feedback: By asking customers for feedback on their experience, you can gain important insights to improve your business.
Use Various Types of Messages: You can diversify communication by sharing text messages as well as images, audio and video content.
Create Group Chats: By creating private group chats, you can build a closer and more interactive relationship with your customers.
Analysis and Improvement: Use analytics tools to monitor the effectiveness of your WhatsApp marketing strategies. Track which content gets the most attention, what kind of interactions you get, and adjust your strategies accordingly.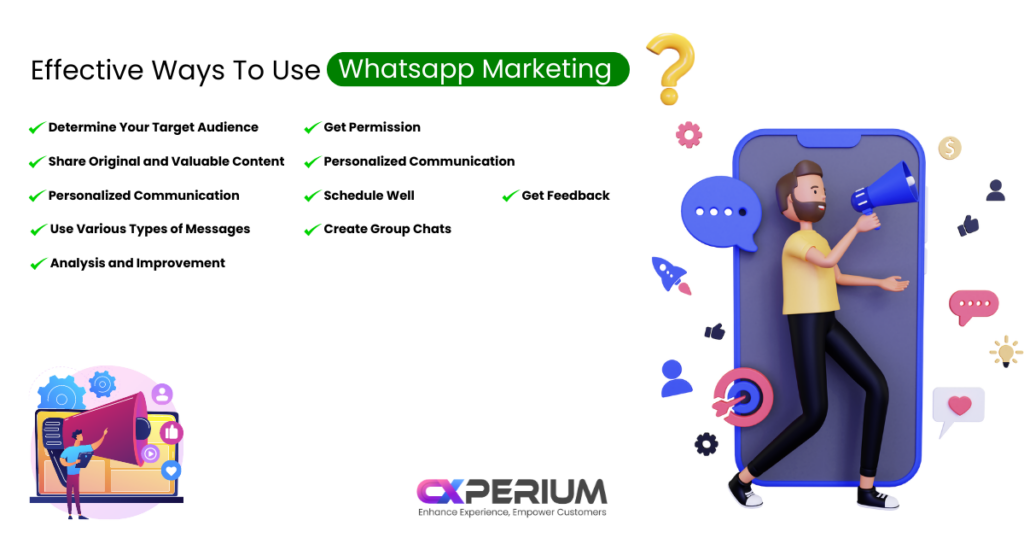 Boost Whatsapp Marketing with Whatsapp Chatbots
WhatsApp chatbots can help businesses use the WhatsApp platform more effectively by providing automatic replies and interactions. When marketing with WhatsApp chatbots, you can follow these steps
Set Goals: First, determine what kind of goals you want to achieve using the WhatsApp chatbot. These goals can be various, such as customer service, product or service promotion, answering questions, or increasing interaction.
Creating a Chatbot: You can use WhatsApp chatbot providers to create your own chatbot. These platforms allow you to personalize your bot, answer questions, and even offer customized offers in some cases. Visit to learn more!
Create a chatflow with questions and answers: Determine how your chatbot should answer which questions. You can improve the customer experience by providing quick answers to frequently asked questions.
Personalization: By personalizing your chatbot, you can greet users by name, remember their previous purchases, or offer suggestions based on their interests.
Deliver Valuable Content: You can support chatbots with valuable content by providing users with learning-based guides, tips, or industry insights.
Promotions and Discounts: You can encourage users to take action by providing information about special campaigns or discounts.
Surveys and Feedback: You can get feedback from users through chatbots or conduct surveys. This is important to increase customer satisfaction and improve your business.
Tracking and Analysis: Thanks to chatbots, you can monitor and analyze user interactions. You can improve your strategy by observing which types of questions are asked frequently, which messages are more effective.
User Training: It is important to inform users about how to use your chatbot. Especially by highlighting the features and benefits offered by the chatbot, you can make users understand it better.
Human Support Possibility: You should provide an option to refer to a human customer service representative when chatbots are unable to solve complex problems or when human touch is needed.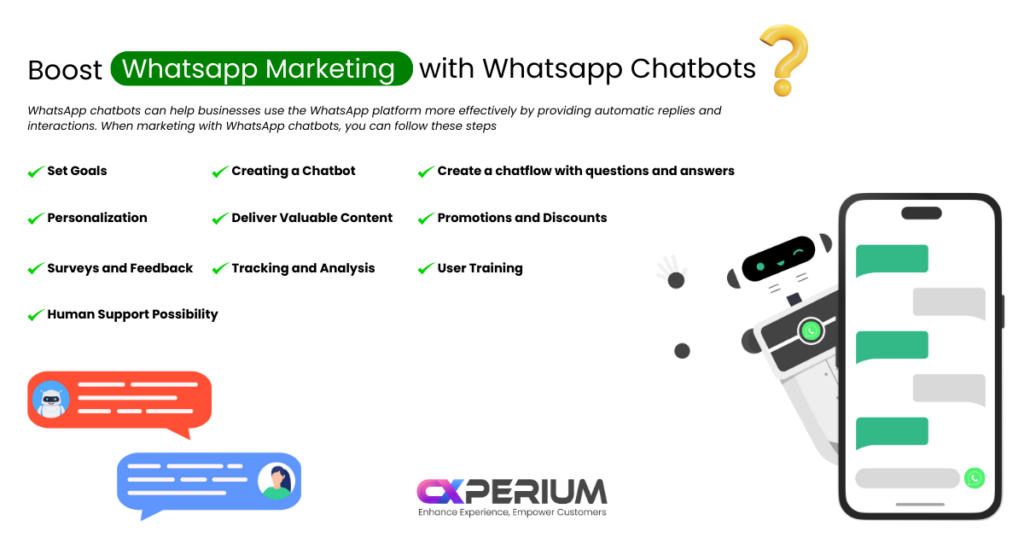 Discover Cxperium To Grow Your Business Potential!
Are you ready to further strengthen the connection your business has established with its customers with Cxperium? Now your business can send surveys via Whatsapp and get real-time feedback, and you can inform your customers instantly with customized notifications. 📊📢
The key to creating unforgettable customer experiences is in your hands with Cxperium's advanced ticket and help desk systems. You can easily manage the demands of your customers and strengthen business tracking. 🎫🔧
You can chat live with frequently asked questions and related topics, and offer instant solutions with Cxperium's effective chat system. 💬✅
And this is just the beginning! Thanks to the Assistant feature of Cxperium, you can create powerful chatbots and meet the questions and needs of your customers 24/7. 🤖🕒
Deepen your connection with your customers even more by using the power of Whatsapp and stand out in front of the competition! Take the customer experience beyond the limits with Cxperium. 👑📈
Do not hesitate to contact us for more information. Start experiencing the customer experience of the future today with Cxperium! 💼