After we create the contact group, we can now proceed with the new contact registration process. For new contact registration; We need to go to the "Contacts" Menu, which is in the "CRM" Menu subgroup, and click on the "ADD" Button.

The "Add" Button is in the subgroup; We can click on the "Add contact" button and create a new contact record.

After clicking the "Add contact" button, we are greeted by the screen where we can add people.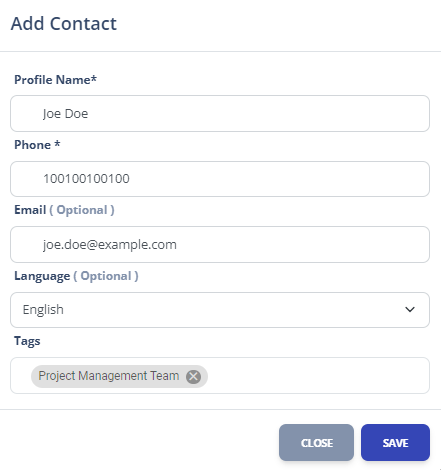 Profile Name: Person-Profile name. The field in which you specify how the contact is displayed in the system. Ex. Joe Doe.
Phone: The person's phone number.
Email: The e-mail address of the person. (This field is not required to be filled.)
Tags: The area where we specify the Contact Group that we created in the previous sections. (If we want to keep the contact in multiple contact groups, we can make multiple selections.)
If we fill in the required fields and click on the "SAVE" Button, we will complete the process of creating a new contact.